AWARDS AND DISTINCTIONS
---
In various annual rankings organised by prestigious newspapers, among others Rzeczpospolita and Gazeta Prawna, our tax consultancy and its partners are consistently rated among the top tax advisors in their respective fields of specialisation.
In the 9th edition of the Ranking of Tax Advisory Companies compiled by Rzeczpospolita and the newspaper of the Stock Exchange, i.e.Parkiet, PaczuskiTaudul was voted as the most dynamic tax advisory firm of 2014. At the same time, it waspositioned as fourth in Poland in the category of tax firms servicing the largest number of companies listed on the Stock Exchange (top three places were awarded to companies from the so-called "Big 4" consultancies). Thus, we are the only exclusively Polish-owned consulting practice that cooperates with 45 Stock Exchange companies. We also received a distinction in the category of Prestigious transactions and successes before the courts.
In Rzeczpospolita'sRanking of Tax Advisory Firms for 2008, 2009 and 2010, other tax advisors voted AndrzejPaczuskias Poland's best tax advisor providing services to the financial sector. In the same ranking for 2014, Andrzej was indicated as the recommended tax advisor for corporate income tax matters, whereas in 2007, he was recognised as one of the top three tax optimisation experts.
In Rzeczpospolita's Ranking of Tax Advisory Firms for 2007 and 2008, Andrzej Taudul was listed among the leading recommended tax advisors specialising in personal income tax issues. In Gazeta Prawna's 2nd Ranking of Tax Firms and Tax Advisors conducted in 2008, he was elected as one of the top three income tax advisors.
---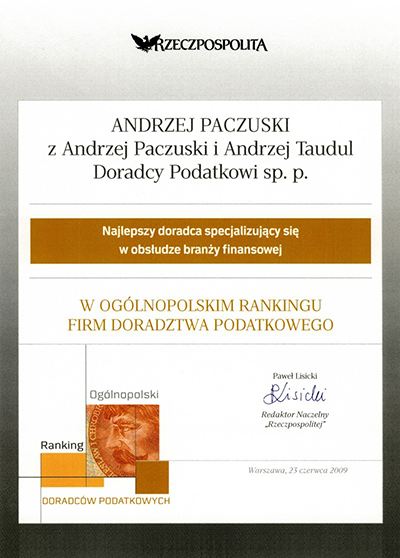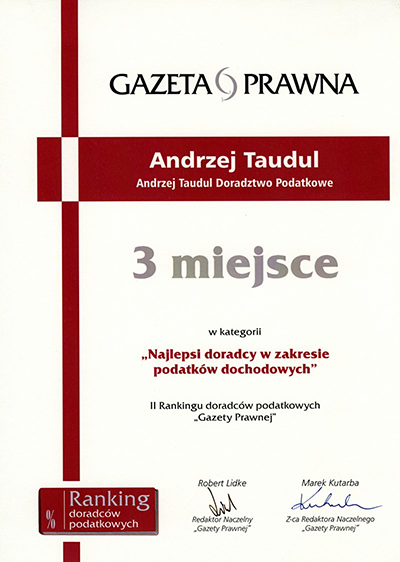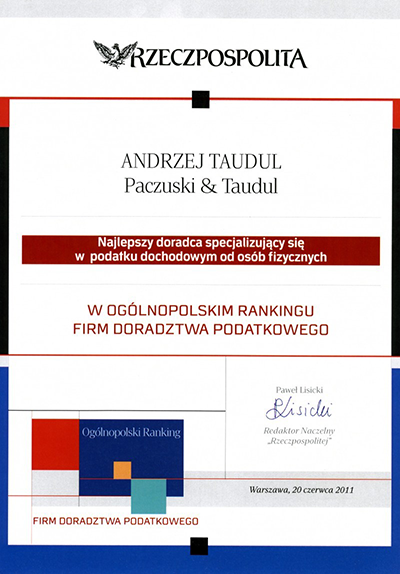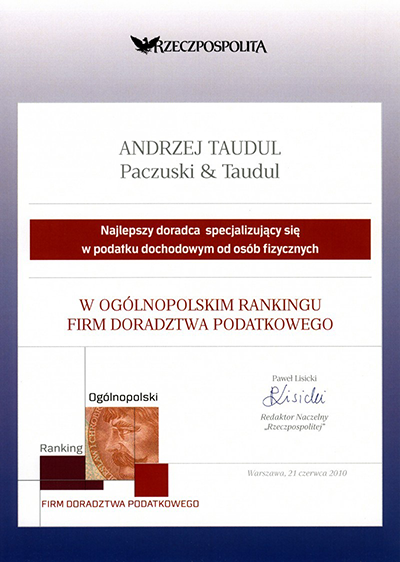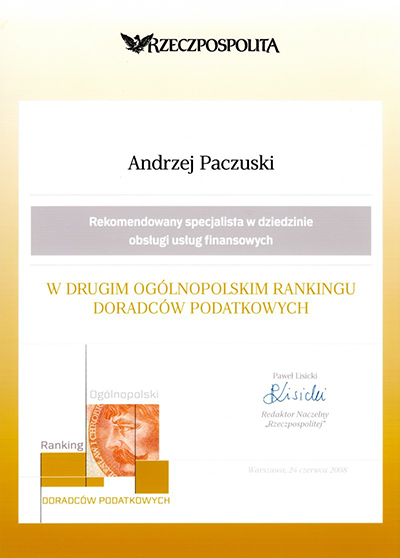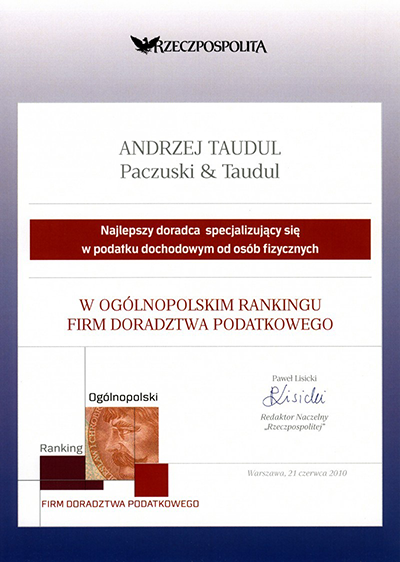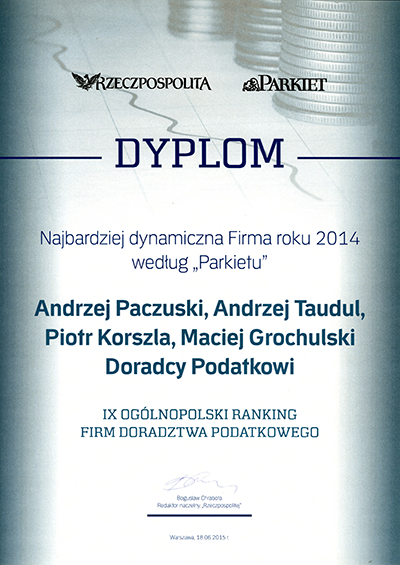 Paczuski Taudul
Doradcy Podatkowi Sp. z o.o.
KRS: 0000246487
NIP: 526 290 40 47
REGON: 140350616
WARSAW
BUILDING G9
ul. Giełdowa 7/9, 01-211 Warszawa
tel. 22 205 22 00, fax 22 205 22 01
e-mail: biuro@ptpodatki.pl
KATOWICE
JESIONOWA BUSINESS POINT
ul. Jesionowa 22, 40-158 Katowice
tel. 32 704 79 39, fax 22 205 22 01
e-mail: biuro@ptpodatki.pl